Innovative Insurance Solutions
Start With You In Mind
Next Level Insurance Agency provides employee benefit solutions tailored just for you. We use our innovative approach and proprietary Elevate Process to find the right solutions for your organization and educate your employees on how their benefits work, which benefits might be right for them, and when there is an issue they have an advocate to help get it resolved. Beyond that, our firm is committed to developing your benefits strategy and managing it to out-perform our competitors and our results show!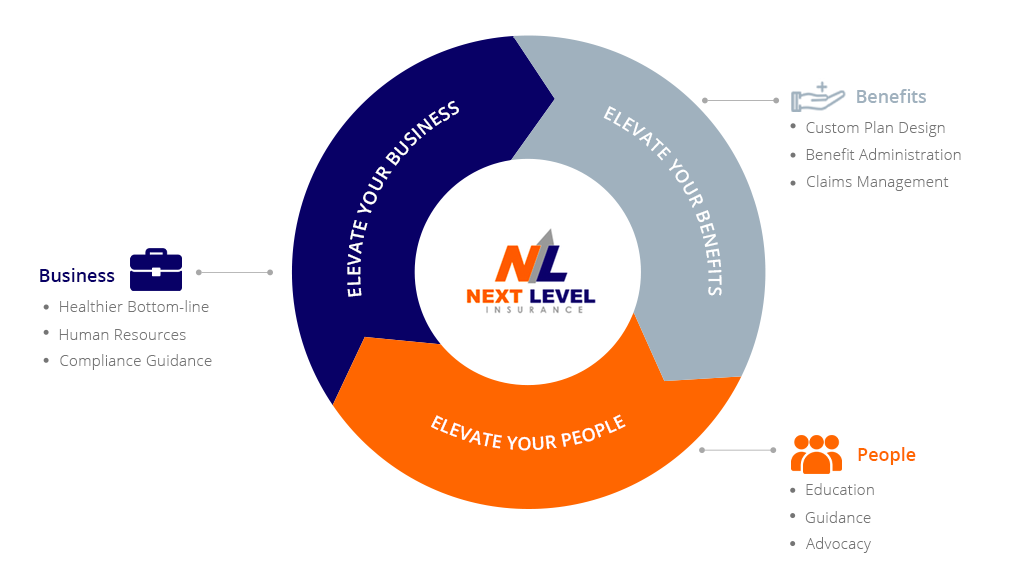 Our Elevate Process is comprised of a 7-step approach that attends to the daily and annual requirements of your benefits program while maintaining a focus on the horizon. Our approach to benefits management delivers an immediate and ongoing positive impact on the employer's organization and plan participants, allowing for data-driven refinements along the way.
Custom Plan Design – We base our program recommendations on understanding what you and your employees need. When it comes to designing an annual employee benefits strategy and executing every component, details matter. But so does the big picture.
Benefit Administration – We utilize leading edge technology to allow for a seamless enrollment process and make connecting with your payroll provider a breeze.
Claims Management – Our Team will provide a timely response to all claims issues. We will reach out to the carriers to rectify any issues that may arise, so your employees do not have to spend their valuable time dealing with claims.
Inform, educate, and empower your employees to make the best benefits decisions for themselves and their families. Health events can be an emotional rollercoaster for employees and their families, creating a situation that is ripe for potential errors and overpayment. Not only will Next Level Insurance provide employee education, but your employees will have a dedicated advocate to help them navigate healthcare decisions.
Education – One way we elevate employee experience is through literacy, warding off potential issues. There is a strong connection between the quality of the benefits education that employees receive, their perception of the employee benefits package quality, and potentially their quality of care. We guide your employees through their benefits package and educate them on best practices to utilize those benefits while managing their out-of-pocket expenses and finding the best care.
Guidance – Employers can make plan design changes and educate employees throughout the year, but the best way to reduce healthcare costs is to reduce healthcare costs at the source—that is, to help employees use healthcare as efficiently as possible. Employee advocacy experts can guide participants to the right care and provide resources to help them use their benefits effectively. Cost savings also come in the form of time saved for employees, who can focus on their jobs and their families while a benefits advocate helps them get the right care or resolve complicated and confusing health insurance claims. The employee is healthier and happier—and the employer has created a pathway to more efficient benefits utilization and engagement.
Advocacy – Next Level Insurance serves as a first-to-call resource for plan participants. Rather than reaching out to an insurance carrier first, whose issue resolution success is measured based on the call time, employees contact their benefits advocate at Next Level Insurance. This expert is trained to answer questions, deal with insurance claims, and support employees on their medical journey. Beyond advocating when claims arise, the health insurance industry also needs advocacy for the consumers at the legislative level. We are proud to have a leadership team that is active in advocating at the state and federal levels. Our leadership has testified in state capitols and worked on health care sub-committees in Washington DC to advocate for all consumers and help drive down costs.
As a leader of your organization, you have a fiduciary responsibility to your employees and any shareholders. Countless firms have entrusted Next Level Insurance with their greatest asset, their company, to help navigate the ever-changing employee benefits and regulatory waters.
Healthier Bottom-line – Your employees are your most valuable asset. With a constant eye on your business, we assess, strategize and implement processes to reduce your risk.
Human Resources – We provide our clients access to the leading HR resources, provide you with HR guidance tools, access to thousands of pieces of attorney-reviewed content to support your unique business needs, assistance with creating an employee handbook and access to a course library of training courses for you and your employees.
Compliance – We educate our clients on relevant IRS and DOL filing requirements to ensure you have the tools to remain in compliance.